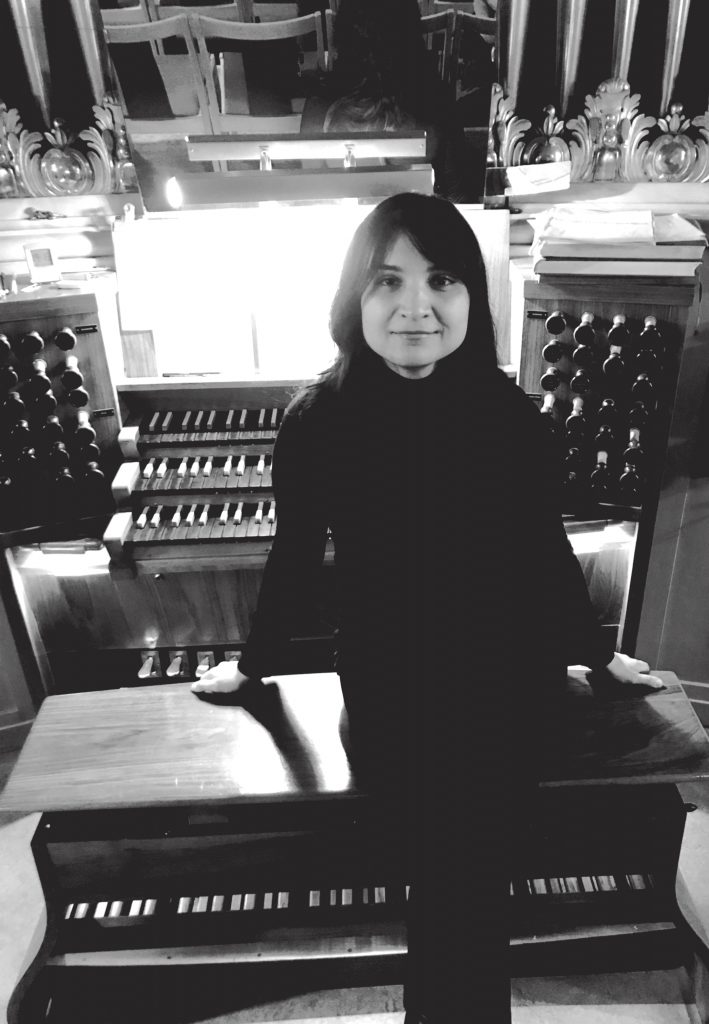 As a composer and performer of electroacoustic music, Sarah Davachi's (b. 1987, Calgary, Canada) work is concerned with the close intricacies of intimate aural space, utilizing extended durations and simple harmonic structures that emphasize subtle variations in texture, overtone complexity, psychoacoustic phenomena, and temperament and intonation.
The instrumentation she employs is varied, including electric organ, pipe and reed organ, piano, tape-replay samplers, analog synthesizers, voice, early Western strings and keyboards, and orchestral strings, brass, and woodwinds, with mutual idioms often layered in tonal counterpoint.  Similarly informed by minimalist tenets of the 1960s and 1970s, baroque leanings toward slow-moving chordal suspensions, and experimental production practices of the recording studio environment, in her sound is manifest an experience that lessens apprehension of consonance and dissonance in likeness of the familiar and the distant.
In addition to her acclaimed recorded output, including 2019's Pale Bloom on Superior Viaduct, 2018's Gave in Rest on Ba Da Bing, and 2018's Let Night Come On Bells End The Day on Recital, Davachi has toured extensively across the globe and has shared the stage and collaborated with artists such as Grouper, William Basinski, Ariel Kalma, the Bozzini Quartet, the London Contemporary Orchestra, Oren Ambarchi, Donald Buchla, Thom Yorke, the BBC Scottish Symphony Orchestra, Jessica Moss, Áine O'Dwyer, Alessandro Cortini, Ian William Craig, Kara-lis Coverdale, Aaron Dilloway, Robert Aiki Aubrey Lowe, Ellen Arkbro, Loren Connors, and filmmaker Paul Clipson.
Sarah operates the record label Late Music, founded in 2020 with the partner labels division of Warp Records; Cantus, Descant, a double LP of new works for pipe organ, reed organ, and electric organ, is the imprint's first release.
Between 2007 and 2017, Davachi had the unique opportunity to work for the National Music Centre in Canada as an interpreter and content developer of their collection of acoustic and electronic keyboard instruments.  Her research and writing focuses on critical organology and timbre and has been published and presented in North America and Europe.  She has held artist residencies at The Banff Centre for the Arts (Banff, Canada), STEIM (Amsterdam, Netherlands), WORM (Rotterdam, Netherlands), EMS (Stockholm, Sweden), OBORO (Montréal, Canada), MESS (Melbourne, Australia), and the National Music Centre (Calgary, Canada), and is the recipient of grants from the Canada Council for the Arts, the Alberta Foundation for the Arts, and SOCAN.  Davachi holds a bachelor's degree in philosophy from the University of Calgary, and a master's degree in electronic music and recording media from Mills College in Oakland, California, where she studied primarily with Maggi Payne, David Bernstein, and James Fei.  She is currently a doctoral candidate in musicology at UCLA and is based in Los Angeles, California, USA.