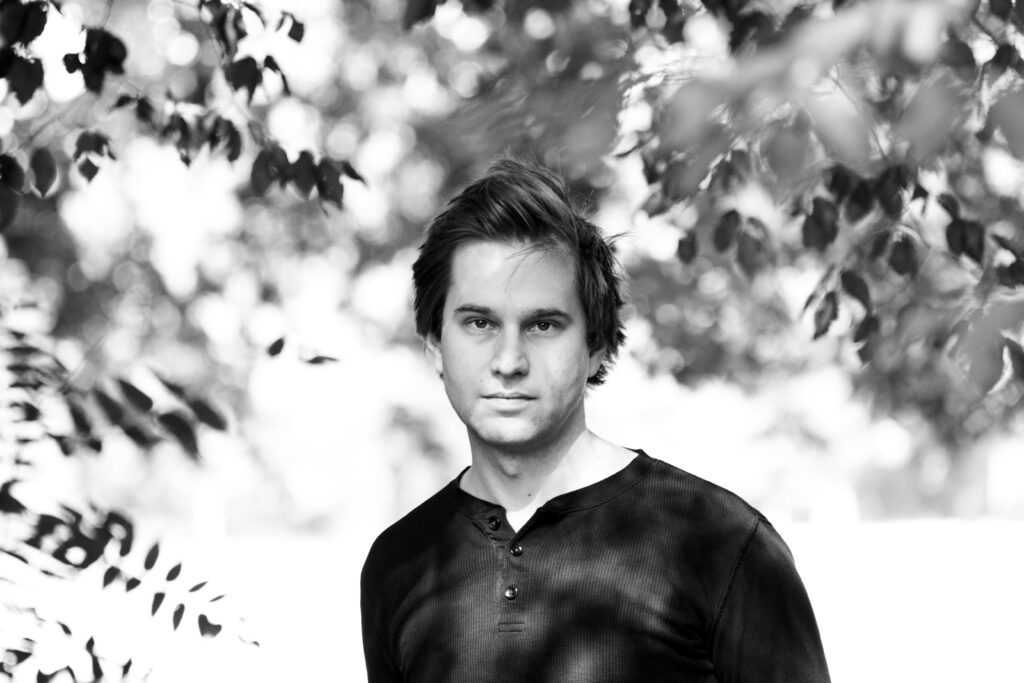 The composer and guitarist Martyn Heyne was born in Hamburg, Germany and classically trained at the Conservatorium van Amsterdam. His concerts and recordings have gained him a reputation for a unique approach to the guitar.
As a performer, Heyne played across the world as a live member of the indie rock outfit Efterklang and as a solo artist has supported acts like A Winged Victory For The Sullen, Nils Frahm, and Balmorhea on tour. Heyne's show is woven around his mesmerising electric guitar playing and has taken him to legendary venues such as the Funkhaus in Berlin and Hamburg's Elbphilharmonie.
Since moving to Berlin and setting up Lichte Studio, Heyne has been involved with some incredible releases in the contemporary classical and independent genres: Bruce Springsteen, The National, Lea Porcelain + alt-J to name a few.
As a composer, Heyne worked alongside Dustin O'Halloran on the US TV series, Transparent. In 2015, the show won five Emmy awards and two Golden Globes.
Heyne released the solo EP Shady & Light in 2016, followed by his debut album Electric Intervals in 2017. Loudersound, UK reviewed: "Martyn Heyne is the kind of oblique player who takes the instrument to a completely different textural plane. (…) You forget all about the how, and luxuriate in the why." Mary Anne Hobbs of BBC Radio 6 Music called it "A beautiful record from end-to-end."
In 2019, Martyn teamed up with fellow Berliner and Erased Tapes artist Ben Lukas Boysen to make the collaboration album Thesis 16 which is available on limited edition 10″ vinyl, with a handmade cover by US artist Gregory Euclide.
Martin's second solo album Open Lines was released in 2020 on his newly established Tonal Institute imprint. Berlin's Das Filter reviewed: "Heyne's songwriting stands out. It is unique and leaves no doubt that something extraordinary is happening here. (…) It is one of the most important albums of our time. No more, no less."
In 2023, Heyne released an album of all new compositions for solo electric guitar titled Eight Reflections in Darkness, via Tonal Institute / AWAL Sony. Elizabeth Alker of BBC Radio 3 says: "Absolutely gorgeous, muted, it's quite hymn-like as well. There are textures here that you might also find in the music of Manuel de Falla. I think you can hear the influence of Bach's Lute works as well. There is a real intimacy to this recording."
Adam Brady of Louder Than War comments: "At times hauntingly beautiful, at times ridiculously catchy and memorable."
Le compositeur Martyn Heyne est né à Hamburg et a reçu une formation classique au conservatoire d'Amsterdam. Depuis son arrivée à Berlin et la mise en place du Studio Lichte en 2009, Martyn a travaillé sur des albums incroyables dans les domaines de musique classique et alternative dont These Walls Of Mine de Peter Broderick, Trouble Will Find Me de The National, Piramida d'Efterklang, et Corollaries de Lubomyr Melnyk.
Sur scène, Martyn était membre live d'Efterklang jusqu'au Last Concert en 2014, et artiste solo pour la première partie sur la tournée de Nils Frahm, ainsi que A Winged Victory For The Sullen, avec un concert de guitare électrique et boite à rythmes analogue. Ses solos live ont attiré des critiques très positives, avec Clashmusic décrivant son concert : "Travaillant seul, sa performance guitare complexe se développe dans de vastes couches soniques, ponctuée par des boites à rythmes grimpantes et synthétiseurs woozy."
En tant que compositeur, Martyn a travaillé aux côtés de Dustin O'Halloran sur la série télévisée américaine, Transparent. En 2015, la série a été nominée pour un Emmy dans sept catégories, et a gagné deux prix Golden Globe – dont un pour Outstanding Original Main Title Theme Music.
La première sortie solo très anticipée de Martyn, le mini-album Shady & Light, est sorti le 27 juin.