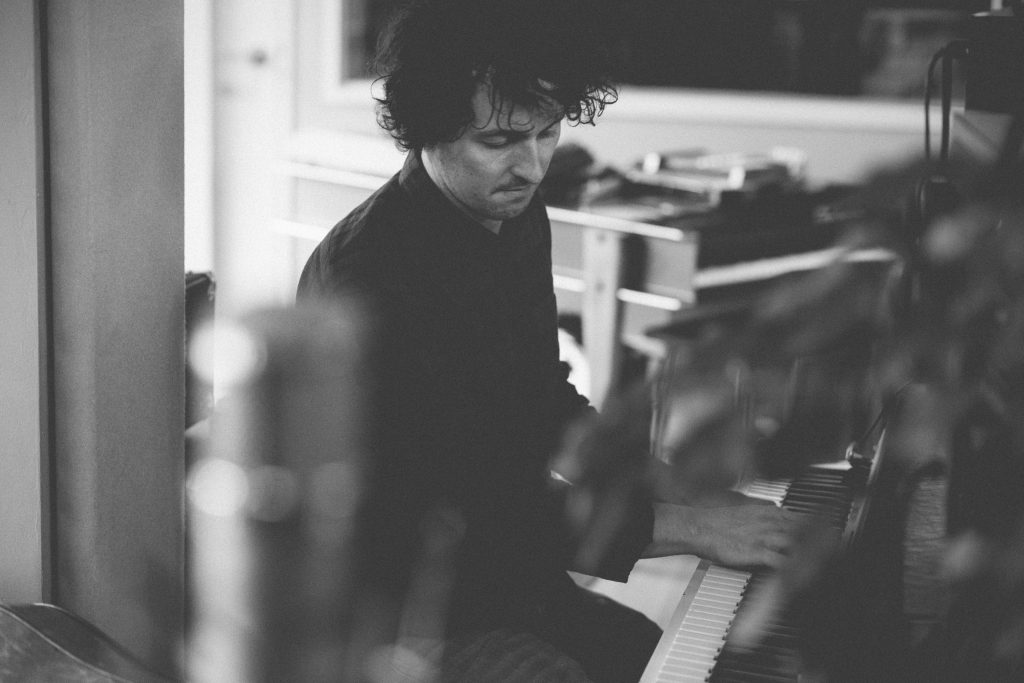 Angus MacRae is a London based composer and musician. Alongside a number of acclaimed solo works, he has collaborated with a diverse range of filmmakers, choreographers, theatre directors, animators and photographers from across Europe and beyond, writing original music for award winning work across the arts.
Full length solo albums include Cry Wolf & Awake/Tides (1631 Recordings/Decca), both intimate works setting solo piano and strings against a backdrop of distant voices and rich analog synths. Reaching a global audience, they have racked up several million streams on Spotify. More recently he completed work on Thesis 07, an international collaboration with German trio InsaDonjaKai, released in a strictly limited edition of 300 10" vinyl records, each with individually handcrafted artwork by American artist Gregory Euclide.
Other recent highlights include a series of works composed for multiple pianos, including Through Shadows, originally commissioned by the Barbican Centre and premiered at the venue in an arrangement for six grand pianos by the acclaimed Piano Circus, in association with Spotify. In Spring 2018, his score for Rebecca Frecknall's critically acclaimed revival of Tennessee Williams's Summer & Smoke was performed at London's Almeida Theatre by a cast of actor musicians, playing 'a thrumming live soundtrack' (Financial Times) on nine upright pianos surrounding the stage. Most recently, his work for TV documentaries include Gypsy's Revenge and Fighting for a City.
His scores for contemporary dance include 공·空·Zero: Restriction, Body and Time, choreographed by Marc Brew & Bora Kim, which premiered in Seoul as part of the 2018 cultural olympiad; What the Moon Saw, From Above and Lucid Grounds for 2Faced Dance, which have all toured nationally and internationally, and Meeting, choreographed by Wayne Parsons, a finalist in the Copenhagen International Choreography Competition.
His extensive work for the theatre includes music for a diverse range of plays, performed in London's West End and at venues including Trafalgar Studios, Soho Theatre, Finborough Theatre, Southwark Playhouse, National Theatre Studio and The Pleasance, Edinburgh.
Angus MacRae est un compositeur et musicien basé à Londres. Il fait partie d'une nouvelle vague de jeunes compositeurs classiques, et sa musique combine des mélodies introspectives avec des ambiances électroniques, textures analogues avec sa sensibilité classique, pour créer de la musique visionnaire avec une beauté et assurance intemporelles. En plus d'un nombre de sorties solos acclamées, il a collaboré avec des cinéastes, chorégraphes, directeurs de théâtre, animateurs et photographes acclamés à travers l'Europe et au-delà, composant la musique originale pour des pièces primées à travers l'éventail artistique.
Ses commissions récentes comprennent des projets pour 2Faced Dance, Wayne Parsons Dance et Welsh Ballet, composant la musique pour des productions qui ont fait la tournée en Grande Bretagne et au niveau international. Une nouvelle pièce pour 6 pianos, Through Shadows, a été commissionnée par le Barbican Centre à Londres pour célébrer Piano Day 2017, a été interprétée dans le centre par le groupe acclamé Piano Circus, ainsi que des pièces de Steve Reich, Nils Frahm & Terry Riley.
Les sorties solo de MacRae comprennent Awake (2015) et Tides (2015), tous les deux des pièces intimes avec au centre le piano, mélangeant des mélodies mélancoliques avec des structures minimalistes, ainsi que des textures riches et atmosphériques. Son prochain album, Cry Wolf, sortira sur 1631 Recordings/Decca au printemps 2017. Ses autres projets actuels comprennent une collaboration avec le trio allemand acclamé Insa Donja Kai, composant un album de nouvelles pièces qui aura une sortie vinyle limitée avec des maquettes peintes individuellement par Gregory Euclide.
La musique d'Angus a été diffusée au niveau international dans des films et publicités de la BBC, Channel 4 et ITV, et beaucoup d'autres. Il a composé pour des courts-métrages et publicités primés pour Sony, Toyota & Vodaphone. Son travail extensif en théâtre comprend la musique originale pour une grande variété de pièces, jouées à des salles telles que Trafalgar Studios, Soho Theatre, Finborough Theatre, Southwark Playhouse, National Theatre Studio et The Pleasance, Edinburgh.